3rd Party Lab Tested: No Foreign Substances, No Fillers, Herb ID Confirmed Non-GMO, Gluten-Free, No Preservatives for Your Safety, Examined for Toxic Heavy Metals

100% Natural Products: No Artificial Colors or Flavors

High Quality: Sourced from Ethical Suppliers, Easier to Swallow, Guaranteed Safe and Clean

Great Price: Best Price Amongst cGMP Certified Laboratories Made in the USA in an FDA Registered Facili

30 Days Money-Back Guarantee: If you're not completely satisfied, we'll refund your purchase in full up to 30 days after ordering, no questions asked
  Our Clearway is a powerful blend of natural herbs traditionally used to promote a healthy respiratory system. Designed by experienced herbalists and built upon ancestors' traditions, here is some information on what's inside this blend.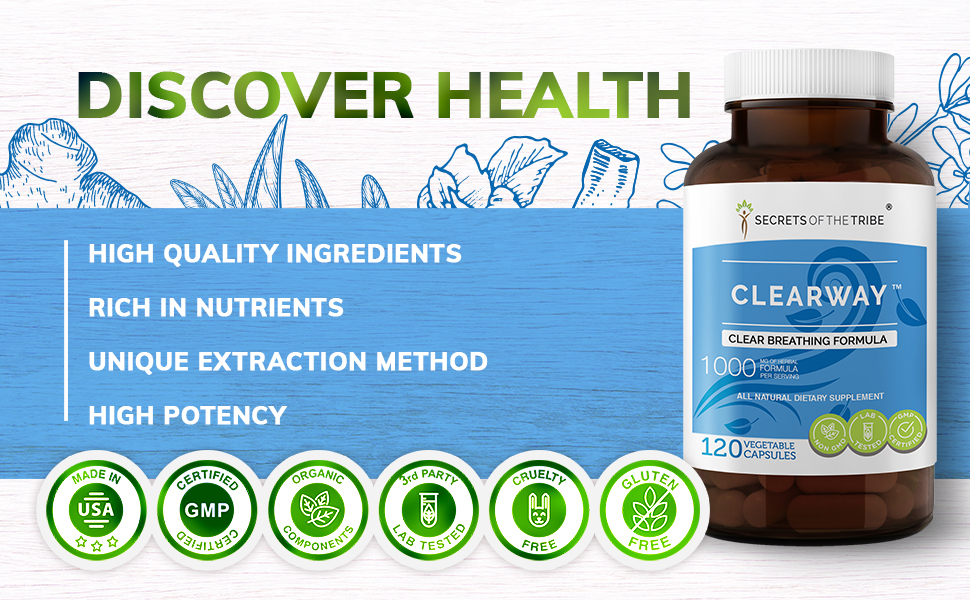 Licorice: Parts used: Root - Certified Organic - Country of Origin: South Africa

Licorice comes from the Greek word "glycyrrhiza" which means "sweet root." It is rich in useful compounds and has a long history of use in Traditional Chinese Medicine for a number of purposes. Licorise can help with throat ailments as well as to promote health for the whole respiratory system.

  Chaparral: Parts used: Leaf and Flower - Certified Organic - Country of Origin: Mexico

Chaparral has been used in traditional Native American medicine to treat various ailments. Chaparral tea has been used as a remedy for bronchial health. Chaparral is also been believed to be a good anti-inflammatory and analgesic agent.
  Ginger: Parts used: Root - Certified Organic - Country of Origin: USA

Ginger is well-known not only as a delicious flavoring but also as a powerful remedy for various respiratory troubles and throat infections. It contains such useful compounds as alpha pinene, amino acids and aluminum.

 
 Sage: Parts used: Leaf - Certified Organic - Country of Origin: Italy

Sage is a plant native to Europe that has traditionally been used in ancient European medicine to promote overall health and wellness. Sage leaves are used to treat serveral various throat ailments.

 Peppermint: Parts used: Leaf - Certified Organic - Country of Origin: USA

Peppermint is famous for its soothing abilities. American folk healers have used tinctures made of peppermint to improve respiratory system health. In traditional medicine, peppermint has been used for centuries to treat sinus issues.
Mother Nature's gifts to help support your health and well-being.

Herbal extracts made with care.
*  This statement has not been evaluated by the Food and Drug Administration. This product is not intended to diagnose, treat, cure, mitigate, or prevent any disease. Results may vary based on individual user and are not guaranteed.