3rd Party Lab Tested: No Foreign Substances, No Fillers, Herb ID Confirmed Non-GMO, Gluten-Free, No Preservatives for Your Safety, Examined for Toxic Heavy Metals

100% Natural Products: No Artificial Colors or Flavors

High Quality: Sourced from Ethical Suppliers, Easier to Swallow, Guaranteed Safe and Clean

Great Price: Best Price Amongst cGMP Certified Laboratories Made in the USA in an FDA Registered Facili

30 Days Money-Back Guarantee: If you're not completely satisfied, we'll refund your purchase in full up to 30 days after ordering, no questions asked
  Our Varicose Vein is a powerful blend of natural herbs traditionally used to promote healthy veins and legs. Designed by experienced herbalists and built upon ancestors' traditions, here is some information on what's inside this blend.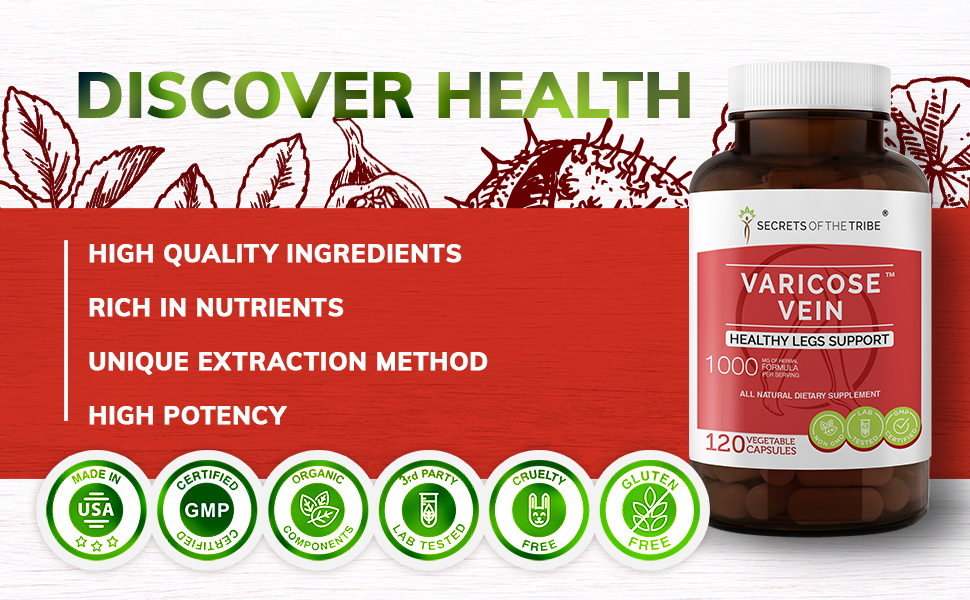 Butcher's Broom: Parts used: Root - Certified Organic - Country of Origin: Albania

Butcher's Broom has an expansive history for its use in circulatory system health and to help alleviate pain.

  Horse Chestnut: Parts used: Nut - Certified Organic - Country of Origin: Hungary

Horse Chestnut is known to help reduce vein problems, help with circulatory health and as a powerful analgesic.
  Bilberry: Parts used: Leaf - Certified Organic - Country of Origin: Albania

Bilberry leaves have been used by European folk healers as an overall tonic. Bilberry contains large amounts of beneficial nutrients and compounds which have been used for their positive effects on the circulatory system. It is an essential part of our blend.

  Ancho Pepper: Parts used: Pepper - Certified Organic - Country of Origin: Mexico

Ancho Pepper is beloved for its antioxidant and anti-inflammatory properties. It is also a great source of vitamins A and B2, among others.
  Gotu kola: Parts used: Herb - Certified Organic - Country of Origin: Sri Lanka

Gotu kola, or Indian Pennywort, is known as a longevity herb and is often used as a general health tonic. Gotu Kola has traditionally used to support a healthy circulatory system.

  Grape: Parts used: Seed - Certified Organic - Country of Origin: USA

Grape seeds have been used by European and Indian folk healers for centuries to support a healthy cardiovasular system.
Mother Nature's gifts to help support your health and wellbeing.

Tailored Herbal extracts made with care.
*  This statement has not been evaluated by the Food and Drug Administration. This product is not intended to diagnose, treat, cure, mitigate, or prevent any disease. Results may vary based on individual user and are not guaranteed.