3rd Party Lab Tested: No Foreign Substances, No Fillers, Herb ID Confirmed Non-GMO, Gluten-Free, No Preservatives for Your Safety, Examined for Toxic Heavy Metals

100% Natural Products: No Artificial Colors or Flavors

High Quality: Sourced from Ethical Suppliers, Easier to Swallow, Guaranteed Safe and Clean

Great Price: Best Price Amongst cGMP Certified Laboratories Made in the USA in an FDA Registered Facili

30 Days Money-Back Guarantee: If you're not completely satisfied, we'll refund your purchase in full up to 30 days after ordering, no questions asked
  Our Minor Pain Care is a powerful blend of natural, nutrient-rich herbs traditionally used to help reduce musculoskeletal pains. Designed by experienced herbalists and built upon ancestors' traditions, here is some information on what's inside this blend.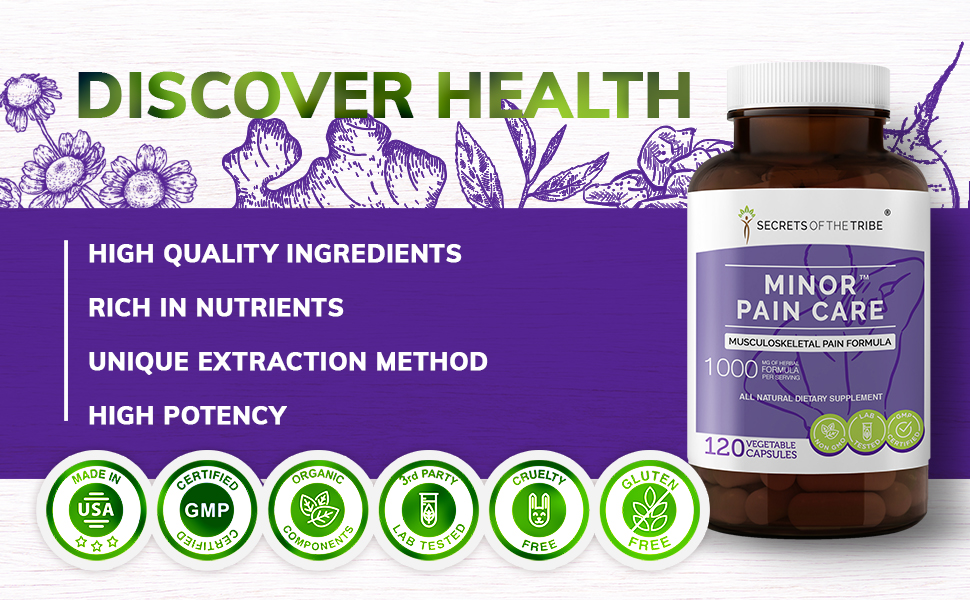 Frankincense: Parts used: Resin - Certified Organic - Country of Origin: Somalia

Frankincense has traditionally been used by Arabian folk healers as an analgesic. Containing alpha-pinene, a powerful anti-inflammatory and analgesic agent, people all over the world are using Frankincense to ease various aches and pains.

  Turmeric Root: Parts used: Root - Certified Organic - Country of Origin: India

Turmeric's use was first recorded more than 2,500 years ago and is one of the most commonly used herbs in herbal medicine today. Turmeric is high in curcumin and rich in vitamins and minerals. In Traditional Ayurvedic Medicine, Turmeric was used as an overall tonic and as an analgesic to help reduce pain.
  White Willow: Parts used: Bark - Certified Organic - Country of Origin: Croatia

White Willow is found in Central and Southern Europe and Asia. The most beneficial part of the plant is its bark which is used for its anti-inflammatory properties to promote overall health and wellness and to manage minor pain. It most popularly used to help with headache pain.

  Beet Root: Parts used: Root - Certified Organic - Country of Origin: China

Beet Root has been used in Traditional Ayurvedic and Chinese Medicine as an overall tonic. Beet Root is a popular seasoning and is rich in nutrients such as vitamin B - especially folate - vitamin C and is rich in minerals such as manganese and iron. Beets also contain pigments called betalains, which may potentially possess a number of anti-inflammatory properties.
 Green Tea: Parts used: Leaf - Certified Organic - Country of Origin: China

Green Tea is a staple in natural medicine and has been used for centuries to alleviate arthritis pain. Kari Kooi, RD, a corporate wellness dietician at The Methodist Hospital in Houston, Texas said a potent compound found in green tea, EGCG, that's been shown to block the production of molecules that can damage cartilage and bone and can help alleviate arthritis aches and pains. In 2008, the National Institute of Health did a study using rats and found that green tea significantly reduces the severity of rheumatoid arthritis, an autoimmune condition, by improving immune responses and suppressing inflammatory substances in the body, while increasing anti-inflammatory substances.
 Feverfew: Parts used: Herb - Certified Organic - Country of Origin: USA

Feverfew is grown as an ornamental flower, but Feverfew is also known for its beneficial properties to promote overall health and wellness. Feverfew contains many beneficial chemical compounds and provides relief from headaches and other minor pains. In a 1989 study of women with symptomatic rheumatoid arthritis, feverfew was tested as a form of relief since laboratory tests previously showed that it can generally reduce inflammation.

Mother Nature's gifts to help support your health and well-being.

Tailored Herbal extracts made with care.
*  This statement has not been evaluated by the Food and Drug Administration. This product is not intended to diagnose, treat, cure, mitigate, or prevent any disease. Results may vary based on individual user and are not guaranteed.