3rd Party Lab Tested: No Foreign Substances, No Fillers, Herb ID Confirmed Non-GMO, Gluten-Free, No Preservatives for Your Safety, Examined for Toxic Heavy Metals

100% Natural Products: No Artificial Colors or Flavors

High Quality: Sourced from Ethical Suppliers, Easier to Swallow, Guaranteed Safe and Clean

Great Price: Best Price Amongst cGMP Certified Laboratories Made in the USA in an FDA Registered Facili

30 Days Money-Back Guarantee: If you're not completely satisfied, we'll refund your purchase in full up to 30 days after ordering, no questions asked
  Our Stamina Secret is a powerful blend of natural herbs traditionally used to promote healthy energy, endurance and vigor. Designed by experienced herbalists and built upon ancestors' traditions, here is some information on what's inside this blend.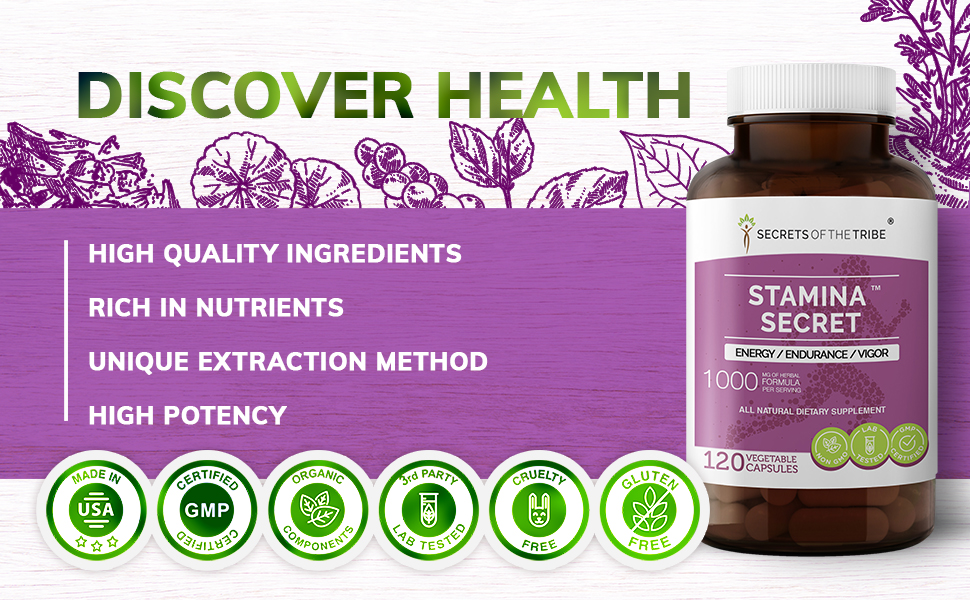 Maca: Parts used: Root Certified Organic - Country of Origin: Peru

This common superfood is loaded with nutrients and has been consumed by indigenous people of the Andes for centuries. With its high antioxidant content, Maca has been traditionally used as a hormone balancer and energy enhancer and several studies have found that Maca root benefits memory and focus.

  Schisandra: Parts used: Berry - Certified Organic - Country of Origin: China

Schisandra is widely spread in China. It is the source of beneficial chemical compounds polyphenols and alpha-pinene which contain anti-inflammatory properties for a healthy immune system and lasting endurance. It was traditionally used in Traditional Chinese Medicine to stimulate the immune system and today is considered an important adaptogen for the body.
  Eleuthero: Parts used: Root - Certified Organic - Country of Origin: Russia

Eleuthero is a small but powerful root native to the forests of Siberia, southeastern Russia and is very popular in China, Japan and Korea. Eleuthero has been used around the world to cope with fatigue due to its powerful energy boosting nutrients such as magnesium, phosphorus and coumarins.

  Gotu kola: Parts used: Herb - Certified Organic - Country of Origin: Sri Lanka

Gotu kola, or Indian Pennywort, is known as a longevity herb and is often used as a general health tonic and supports a healthy circulatory system.
 Barrenwort/ Horny Goat Weed: Parts used: Leaf - Certified Organic - Country of Origin: China

Barrenwort, or Horny Goat Weed, is well-known in traditional Chinese medicine for at least a millennium to treat sexual difficulties. It has also been used to alleviate physical and mental fatigue and treat various ailments.

 Rhodiola: Parts used: Root - Certified Organic - Country of Origin: China

Rhodiola Rosea grows in Europe, Asia and North America and is rich in beneficial components such as beta-sitosterol and amino acids. Rhodiola is used mainly to increase energy, strength and endurance and to reduce mental fatigue. Rhodiola is also well known as a powerful adaptogen.
Mother Nature's gifts to help support your health and well-being.

Herbal extracts made with care.
*  This statement has not been evaluated by the Food and Drug Administration. This product is not intended to diagnose, treat, cure, mitigate, or prevent any disease. Results may vary based on individual user and are not guaranteed.
Some good, some bad
It did seem to increase my energy and stamina level. However, it also raised my blood pressure significantly. I you have hypertension, you may want to use caution with this product.