3rd Party Lab Tested: No Foreign Substances, No Fillers, Herb ID Confirmed Non-GMO, Gluten-Free, No Preservatives for Your Safety, Examined for Toxic Heavy Metals

100% Natural Products: No Artificial Colors or Flavors

High Quality: Sourced from Ethical Suppliers, Easier to Swallow, Guaranteed Safe and Clean

Great Price: Best Price Amongst cGMP Certified Laboratories Made in the USA in an FDA Registered Facili

30 Days Money-Back Guarantee: If you're not completely satisfied, we'll refund your purchase in full up to 30 days after ordering, no questions asked
  Our Respiratory Fortitude is a powerful blend of natural herbs traditionally used to promote overall health of the respiratory system. Designed by experienced herbalists and built upon ancestors' traditions, here is some information on what's inside this blend.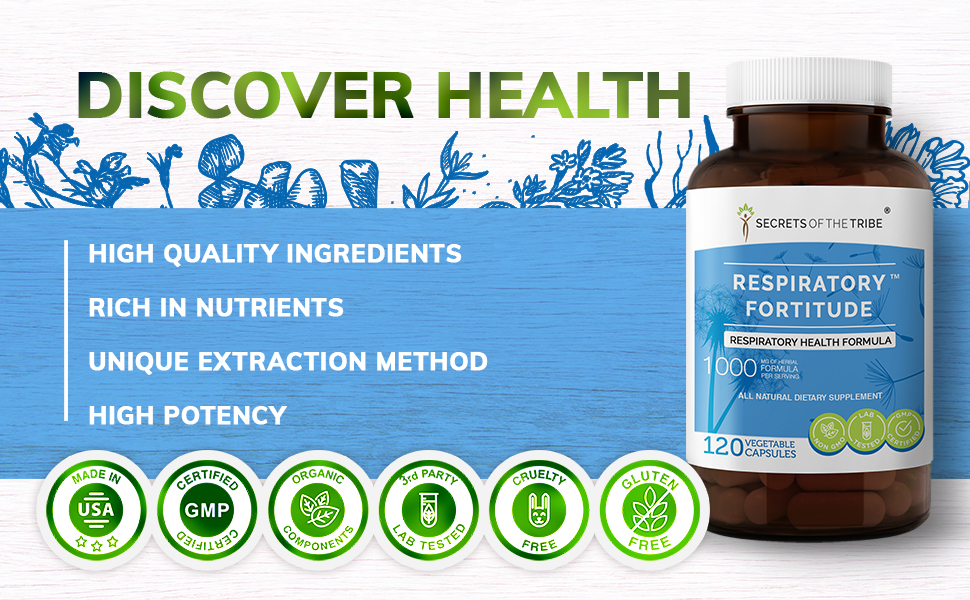 Ginger: Parts used: Root - Certified Organic - Country of Origin: USA

Ginger has been used for more than 2,500 years around the globe. Ginger is used as a general health tonic and has been used in Asia to deal with respiratory problems. According to the Lung Institute, ginger helps to break down mucus thus making it easier for one's lungs to exhale. It also helps to improve circulation to the lungs and reduces inflammation.

  Lungwort: Parts used: Leaf - Certified Organic - Country of Origin: Croatia

Lungwort has been used since the Middle Ages to soothe respiratory conditions, hence the name "Lung-wort". It contains such useful compounds as saponins, tannins and ascorbic acid. Lungwort is also known for immune-modulating properties.
  Lobelia: Parts used: Herb - Certified Organic - Country of Origin: USA

Native American folk healers used lobelia as part of their traditional medicine to promote overall health and wellness. It is rich in beneficial chemical compounds. Maryland Medical Center suggests that lobelia can be used for relief from several respiratory ailments. Herbalists have recommended its use for treating respiratory conditions and disorders, including bronchitis, whooping cough, asthma and pneumonia. Lobelia works as an herbal expectorant and helps cleanse your respiratory tract and lungs.
 Thyme: Parts used: Leaf - Certified Organic - Country of Origin: Turkey

Thyme has been used for many ailments, specifically by ancient European folk healers as an antiseptic that rids the body of bacteria. It contains beneficial chemical compounds and has been known to help suppress coughing and respiratory problems.

 Plantain: Parts used: Leaf - Certified Organic - Country of Origin: Croatia

The plantain is a green, weedy plant native to Europe, North America and central and northern Asia. European folk healers have used it to relieve health ailments for thousands of years, The German Commission E, similar to the United States' Food and Drug Administration, approved the internal use of plantain leaves to ease coughs and irritation of the mucous membrane which can cause upper respiratory tract infections and other lung issues.
Osha: Parts used: Root - Wildcrafted - Country of Origin: USA

Osha is a plant native to North America that has traditionally been used by Native American and Hispanic healers. Osha is commonly used to treat viral and bacterial infections such as bronchitis and the common cold. It has been used in tincture form to promote healthy lungs. The most beneficial part of this plant are the leaves which contain large amounts of ferulic acid.

Eucalyptus: Parts used: Leaf - Certified Organic - Country of Origin: India

Eucalyptus is native to Australia and is rich in beneficial compounds. It also contains alpha-pinene, a terpene known its anti-inflammatory effect. It is traditionally used to reduce symptoms of cough, colds and congestion.

Mother Nature's gifts to help support your health and well-being.

Tailored Herbal extracts made with care.
*  This statement has not been evaluated by the Food and Drug Administration. This product is not intended to diagnose, treat, cure, mitigate, or prevent any disease. Results may vary based on individual user and are not guaranteed.
Respiratory Fortitude.
I feel they have helped me quite a lot. Would buy them again.