3rd Party Lab Tested: No Foreign Substances, No Fillers, Herb ID Confirmed Non-GMO, Gluten-Free, No Preservatives for Your Safety, Examined for Toxic Heavy Metals
100% Natural Products: No Artificial Colors or Flavors
High Quality: Sourced from Ethical Suppliers, Easier to Swallow, Guaranteed Safe and Clean
Great Price: Best Price Amongst cGMP Certified Laboratories Made in the USA in an FDA Registered Facili
30 Days Money-Back Guarantee: If you're not completely satisfied, we'll refund your purchase in full up to 30 days after ordering, no questions asked
  In May 2017, powerful storms struck Memphis and uprooted trees and left many Memphis' residents in darkness. These extreme natural events can be detrimental to human health as they can aggravate pre-existing heart conditions, increase allergy rates and decrease overall quality of life.
  Using Organic raw herbs, we present to you a strong blend of nutrients and energy-enhancing tinctures designed to keep you at your best year-round.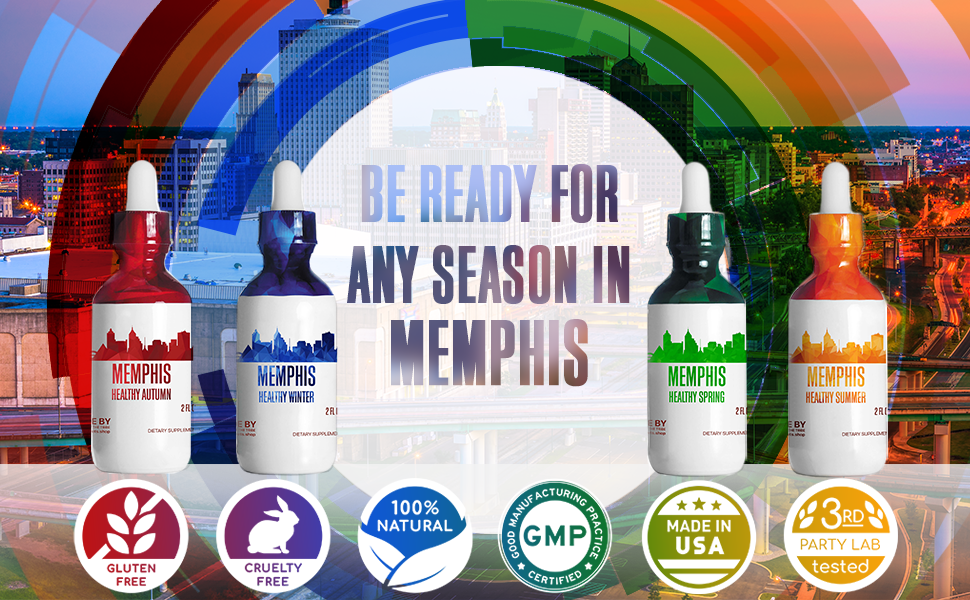 Guarana has been used an an all-natural energy boosters with useful nutrients such as protein, tannin and caffeine. Goji Berries have been used as body detoxifiers as well as to increase the immune-system. The berries have been used in Traditional Chinese Medicine as they are high in useful nutrients such as vitamin C and beta-carotene. 10 herbs with a deep rooted history. Lobelia has been used to promote the respiratory system and for overall lung health. Lobelia is a rich source of lobeline, lobelanine and lobelanidine. Echinacea is rich in echinacoside, caffeic acid and chlorogenic acid and has been used to help strengthen the immune system.
  Brahmi has been used to boost energy levels as the herb is rich in beneficial compounds such as brahmine, apigenin and saponins. Pot Marigold is rich in calendic acid, polysaccharides, linoleic acid, carotenoids and flavonoids and has been used to promote and enhance immune-system health. 10 herbs with a deep rooted history. Slippery Elm has been used for its positive effects on the gastrointestinal tract and overall digestive system health. Slippery Elm is high in tannins, mucilage, amino acids and beta carotene. Licorice is high in alkaloids, glycosides, phenolic compounds, flavonoids, proteins, pectin, saponins, tannins and sterols. Licorice root has been used to aid in digestion and overall gastrointestinal tract health.
  Yerba Mate has been used in South America as an all-natural energy booster. Now available worldwide, the plant is rich in phenolic compounds, caffeic acid, chlorogenic acid, caffeine, theobromine, quercetin, kaempferol, rutin, tannins, saponins and vitamins C, B1 and B2. Stinging Nettle has been used to help body detoxification and is rich in powerful compounds such as calcium, magnesium, potassium, linoleic acid, oleic acid, amino acids, polyphenols and vitamins A, B, C and K. 10 herbs with a deep rooted history. Lemon Balm has been used to support and promote overall digestive health. Lemon Balm is high in phenolic acids, flavonoids and triterpenoids. Orange Peel is a high source of vitamins A and C, folate, flavonoids and minerals and has been used to support a healthy immune system.
  Cacao is considered a superfood and has been used to detoxify the body and as an all-natural energy booster. Cacao is high in magnesium, potassium, chromium, zinc, aluminum and amino acids. Asparagus is rich in polyphenols, flavonoids, tannins and ascorbic acid and has been used as a detoxifier. 10 herbs with a deep rooted history. Valerian has been used for its calming effect and is high in beneficial compounds such as valerenic acid, valeranone, flavonoids and triterpenes. Lungwort is rich in compounds such as polyphenols, flavonoids and proanthocyanidins. Lungwort herbs have used to support overall lung health and promote the respiratory system in summer.

  Memphis is the birthplace of blues music, but its citizens are experiencing a different kind of blues. Powerful summer storms have battered the city and its residents' overall health. High heat, humidity and rainfall can spike air allergens and can complicate pre-existing respiratory issues such as bronchitis. In wet and humid conditions, mosquito and tick populations rise and they can transmit diseases and infections.

  Each of our blends are specifically made to help you be at your best even in these extreme weather conditions. We've taken into careful consideration each season's characteristics and designed these supplements with the aim to help you adapt accordingly so that you are never unprepared. As one of the cultural epicenters of the world, we understand the demands of this active city and are ready to meet them. We want to be a part of the solution by bringing health of mind and body to the forefront and into your communities. We understand that the battle against weather challenges starts from within.
*  This statement has not been evaluated by the Food and Drug Administration. This product is not intended to diagnose, treat, cure, mitigate, or prevent any disease. Results may vary based on individual user and are not guaranteed.