3rd Party Lab Tested: No Foreign Substances, No Fillers, Herb ID Confirmed Non-GMO, Gluten-Free, No Preservatives for Your Safety, Examined for Toxic Heavy Metals

100% Natural Products: No Artificial Colors or Flavors

High Quality: Sourced from Ethical Suppliers, Easier to Swallow, Guaranteed Safe and Clean

Great Price: Best Price Amongst cGMP Certified Laboratories Made in the USA in an FDA Registered Facili

30 Days Money-Back Guarantee: If you're not completely satisfied, we'll refund your purchase in full up to 30 days after ordering, no questions asked
  Our Herbal Munchies is a beneficial blend of natural herbs traditionally used to promote healthy appetite. Designed by experienced herbalists and built upon ancestors' traditions, here is some information on what's inside this blend.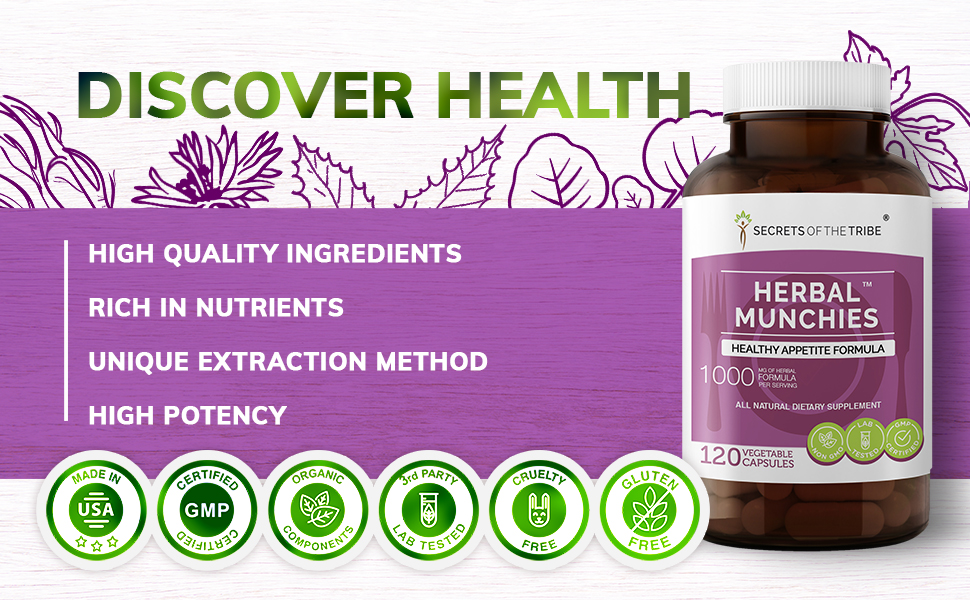 Watercress: Parts used: Herb - Certified Organic -Country of Origin: Croatia

Watercress has been used in traditional medicine for its healing properties and is rich in nutrients such as vitamins A, B6, B12 and C as well as calcium, iron, magnesium and phosphorus.

  Ancho Pepper: Parts used: Pepper - Certified Organic -Country of Origin: Mexico

Ancho Pepper is a great source of vitamins A and B2, as well as vitamins B6, B3, and B5, potassium, iron, magnesium, copper, phosphorus, and folate. It is also appreciated for its antioxidant and anti-inflammatory properties.
  Gentian: Parts used: Root - Certified Organic - Country of Origin: France

Gentian has traditionally been used for centuries to promote digestive health from its great number of beneficial chemical compounds. Gentian has been used in different cultures as an appetite stimulant.

  Blessed Thistle: Parts used: Leaf - Certified Organic - Country of Origin: Portugal

People during the Middle Ages would use Blessed Thistle to treat various ailments. Monks grew it in their gardens to use as a digestive stimulant and nutritious tonic. Traditional herbalists used Blessed Thistle tea for digestive problems, liver and gallbladder diseases. Men and women took Blessed Thistle to stimulate appetite and support the secretion of digestive juices.
 Centaury: Parts used: Herb - Certified Organic - Country of Origin: Croatia

Folk healers traditionally have used centaury for digestive problems, to purify the blood and to promote liver and kidney health. Centaury's tonic and detoxifying effect has been even used to soothe snake bites.

  Bitter Melon: Parts used: Fruit - Certified Organic - Country of Origin: India

Extract obtained from the Momordica Charantia fruit has positive effects on the human body such as balancing blood sugar and cholesterol levels and can assist with digestive disorders.
Mother Nature's gifts to help support your health and well-being.

Herbal extracts made with care.
*  This statement has not been evaluated by the Food and Drug Administration. This product is not intended to diagnose, treat, cure, mitigate, or prevent any disease. Results may vary based on individual user and are not guaranteed.