3rd Party Lab Tested: No Foreign Substances, No Fillers, Herb ID Confirmed Non-GMO, Gluten-Free, No Preservatives for Your Safety, Examined for Toxic Heavy Metals

100% Natural Products: No Artificial Colors or Flavors

High Quality: Sourced from Ethical Suppliers, Easier to Swallow, Guaranteed Safe and Clean

Great Price: Best Price Amongst cGMP Certified Laboratories Made in the USA in an FDA Registered Facili

30 Days Money-Back Guarantee: If you're not completely satisfied, we'll refund your purchase in full up to 30 days after ordering, no questions asked
  Our Cycle Regulator is a synergistic blend of natural herbs for women that traditionally used to help support a healthy menstrual cycle. Designed by experienced herbalists and built upon ancestors' traditions, here is some information on what's inside this blend.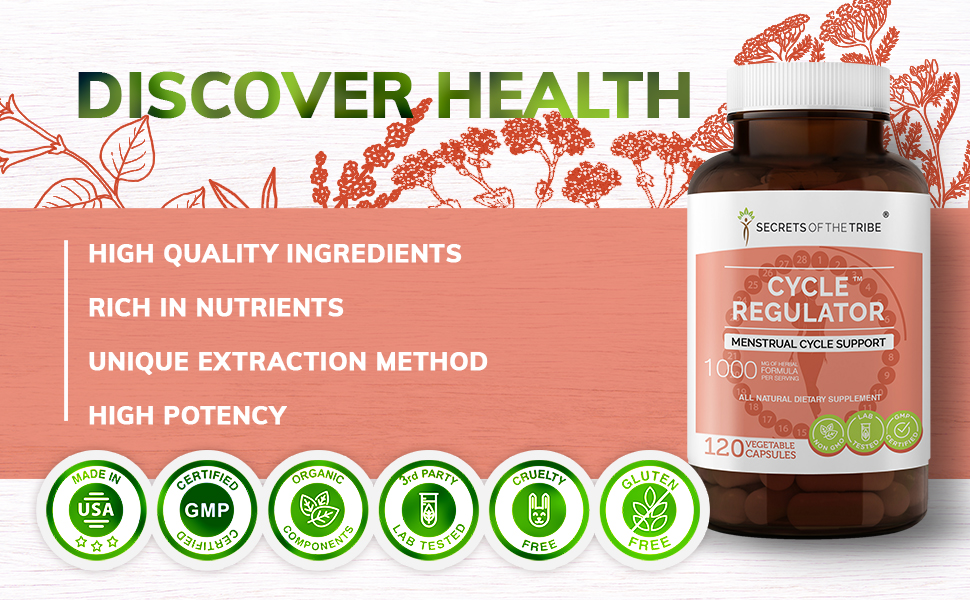 Vitex Chaste: Parts used: Berry - Certified Organic - Country of Origin: Turkey

Vitex is high in beneficial alkaloids, flavonoids and essential oils and European folk healers have used Vitex to reduce nerve tension and produce a healthy hormonal balance. Vitex has been used to promote a healthy menstrual cycle because it contains beneficial nutrients that help treat menstrual dysfunction.

  Partridgeberry: Parts used: Herb - Wildcrafted - Country of Origin: USA

Partridgeberry, or Squaw Vine, is commonly found in North America and Japan and contains beneficial alkaloids that have a strong analgesic effect. Partridgeberry also has high levels of saponins that are well-known to have a positive effect on sexual health. It is a great addition to Cycle Regulator Formula to help relieve pain from menstral cramps.
  Lady's Mantle: Parts used: Herb - Certified Organic - Root Country of Origin: Poland

Lady's Mantle is a useful herb that is rich in tannins that provide hemostatic properties. European folk healers have used Lady's Mantle for its anti-inflammatory effect.

  Black Cohosh: Parts used: Root - Certified Organic - Country of Origin: USA

Black Cohosh has been used for centuries to reduce the effects of difficult menses. With high amounts of beta-carotene, Black Cohosh is also a powerful analgesic and antioxidant.
 Yarrow: Parts used: Leaf, Flower - Certified Organic - Country of Origin: Hungary

Yarrow is a hardy perennial that is native to Eurasia and widely used in the United States. Rich in antioxidants and flavonoids, Yarrow was used by ancient Grecian folk healers to soothe the body and relieve stress, which makes it ideal for curbing mood swings and excessive cramps.

 Dong Quai: Parts used: Root - Certified Organic - Country of Origin: China

Dong Quai is a famous plant loaded with nutrients and is popular in Traditional Chinese Medicine. Dong Quai has been traditionally used as an adaptogenic. With its high folic acid content it can promote overall health and wellness while helping to regulate the menstrual cycle, Dong Quai is an important part of this formula.
Mother Nature's gifts to help support your health and well-being.

Herbal extracts made with care.
*  This statement has not been evaluated by the Food and Drug Administration. This product is not intended to diagnose, treat, cure, mitigate, or prevent any disease. Results may vary based on individual user and are not guaranteed.
Cycle Regulator
Es el único producto que me a regulado la menstruación sin tener que utilizar la Provera.En realidad este producto es fantástico.